UNIVERSITY OF TEXAS

INFORMATION SECURITY OFFICE
While in school, I got hands-on experience as UT's InfoSec Student Marketing Lead.
For 2.5 years I planned, plotted, and executed campaigns that included web devolpment, event marketing, social media advertising, newsletters, tabling, brand creation and upkeep, and probably a lot more I can't remember.
I created everything below in its entirety, from
concept
to
design
.
---
Goal: Inform UT students about cybersecurity risks they will face, and create awareness about the ISO's office and services.
SOCIAL MEDIA︎︎︎
Instagram, Facebook, Twitter, LinkedIn, oh my! I did it all.
WEB DESIGN & COPY︎︎︎
This article was an introduction to the information security industry for UT students.
Click
to read!
This page acted as a home base for a month-long event series, packed with info about cybersafety too!
Click
to read!
POSTERS︎︎︎

Strategically placed around campus to get students on our webpages about the various principles of security.


STICKERS︎︎︎
I designed and printed these stickers to slap around campus and hand out at events. After all, the eyes of Texas are upon you.
---
National Cybersecurity

Awareness Month (NCAM)

Every October, I spearheaded a month-long event and information campaign for National Cybersecurity Awareness Month. Here's what that looked like!
INSTAGRAM︎︎︎
Brief but informative, every day in October I posted helpful tidbits about staying secure.
TWITTER︎︎︎
Using my experience design schooling, we took an active-learning approach to cybersafety. This choose-your-own-adventure style Twitter thread took the university by storm! (Try it for yourself
here!
)
︎ Won an Addy from the Austin Ad Federation - Bronze - Single Execution
︎ Won the University Excellence in Communication Award from UT's Comms Department - Small but Mighty
People got talking!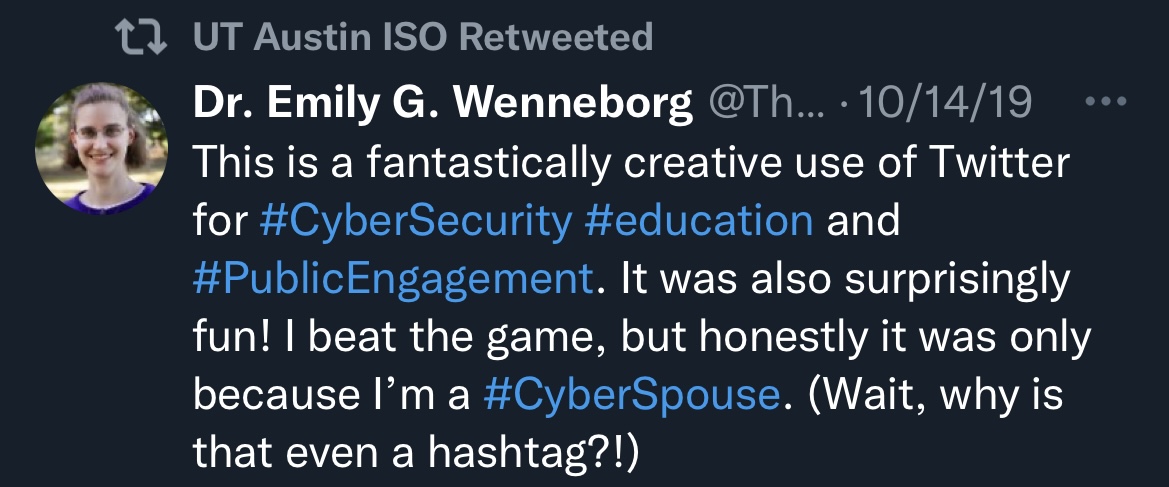 EVENT MARKETING︎︎︎
Taking that info from Insta, we quizzed students on staying cybersafe. The first 400 perfect scorers were in for a real slice of the action.
EXECUTIVE SUMMARY︎︎︎
When it was all said and done, the impact was there! Here's the executive summary I wrote! (
PDF here
for better readability.)